, published:
Remarks on Windows Disk and File IO During System Boot
Let use take a look at some graphs I created with Windows Performance Analyzer (WPA), showing a typical corporate laptop boot Windows 7. Detailed information on creating such a trace can be found in my earlier article Analyzing a Slow Boot with Windows Performance Recorder & Analyzer.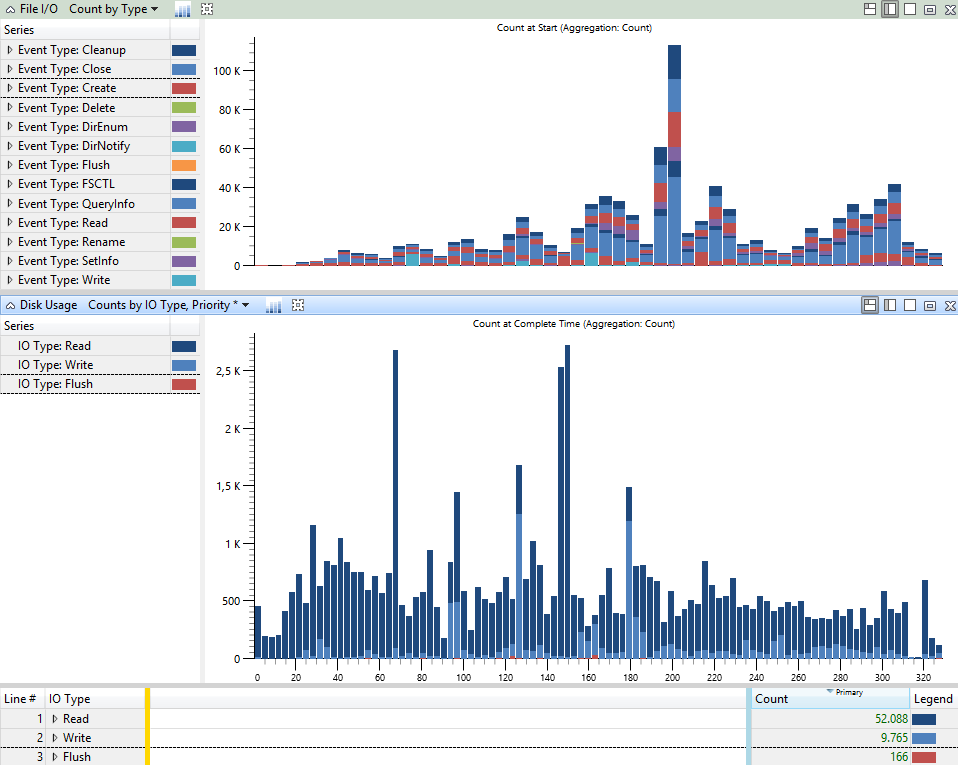 Analysis
Several things can be learned analyzing the graphs:
IO count and IOPS are much higher when measured at application level (top graph) versus at disk level (bottom graph) – notice the different scaling of the y-axis! See my earlier article The Impossibility of Measuring IOPS (Correctly) for more information on this topic.
Contrary to popular belief the boot phase IO pattern shows not only reads, but a substantial amount of writes, too: 16% in this case. I am sorry about the colors, by the way. I tried but could not get WPA to change the colors so that reads and writes look less similar.
Windows' boot phase obviously is very IO intensive. In this case we have a total of 62,000 IOs over a time period of 330 seconds which amounts to 188 IOPS on average. That is not bad for a poor magnetic hard drive at all, but this system would benefit greatly from an SSD.
Bonus takeaway: IOPS are a function not only of the drive speed but also of the application(s) generating the IOs.