by:

Oct 31, 2018

, updated:

Mar 4, 2019

, in

, published:
Laudation to E2EVC – Experts to Experts Virtualization Conference
On the eve of my departure for E2EVC Athens I feel it is time for a laudation. Let me explain why.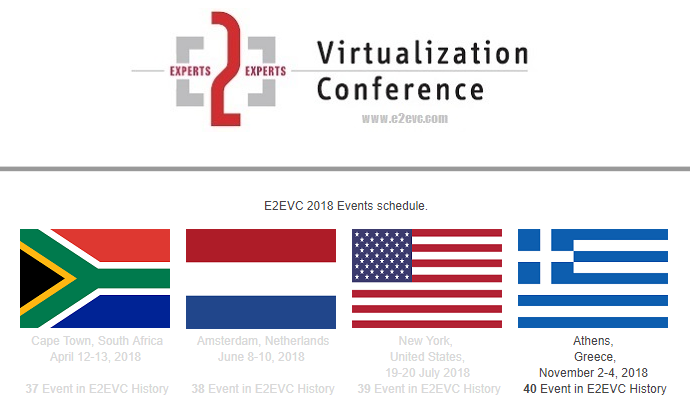 Athens will be my 22nd E2EVC out of 40 events total. In the past eight years, I attended every single E2EVC event in Europe and the US. There is a reason for that, of course. It is certainly not an overabundance of time on my part or even wanderlust. It is simply the fact that E2EVC's creator, Alex Cooper, has done the most remarkable thing. He single-handedly established the Citrix community in Europe (and helped along the greater end-user community quite a bit). That is a – very – significant achievement.
He single-handedly established the Citrix community in Europe
How did Alex do that? I am not sure how it started (because I was not around at the time). But I know why E2EVC has been by far the best conference for the past eight years: content and community. You could also rephrase it as "knowledge and networking".
Great speakers almost guarantee great content, which in turn attracts attendees. But that is not all; Alex added a few clever twists. One, the conference is (mostly) on a weekend. This ensures that only the really passionate folks attend. Two, Alex organizes a community night out with food and drinks (often paid for by a sponsor). This brings people together. Three, Alex makes it easy to get a session slot (unlike almost every other conference). Many CTPs and MVPs learned the ropes at E2EVC, including myself.
The result is truly remarkable. I would guess that about 50% of attendees are regulars like myself while the other 50% are newbies or people that "hop on and off the bus".
Taking a look at the content lined up for the Athens conference, we have sessions about topics and technologies from a broad range of end-user computing, cloud, virtualization and networking topics like the following (a selection):
Windows 10 VDI
Citrix App Layering automation
Windows Server 2019 Software-Defined Datacenter
Citrix Cloud on Azure
EUC: past, present and future
Citrix NetScaler automation
Workspace solutions in Azure
Web app UX monitoring with uberAgent
Containerization with Docker
MSIX for Enterprises
State of MDM
AMD datacenter GPUs for virtualization
Microsoft RDMi
Graphics acceleration update
Amazon AppStream and Amazon WorkSpaces
Security for EUC Admins
VMware Horizon in AWS
RES 2 Ivanti Workspace Manager
In addition to those 45-minute sessions, there are a number of 4-hour masterclasses on topics like:
NetScaler Automation
MSIX packaging
NetScaler MAS
What else is there to say? That E2EVC moves between cities that are attractive, affordable and easy to reach? That Alex personally operates an airport shuttle for attendees?
I am going to close this article with a big thanks to Alex and his team. Without them, I would not have met so many amazing people, I would not have learned so much, and I would have had far less fun doing so. In short: I would not be where I am today.