by:

Nov 23, 2016

, updated:

Mar 18, 2018

, in

, published:
The Perfect Workstation: Fujitsu Celsius J550
When it comes to selecting a general-purpose workstation I tend to be looking for the impossible: high performance, superb reliability, quiet operation, moderate price. Amazingly, there exists at least one device with all those qualities: the Fujitsu Celsius J550.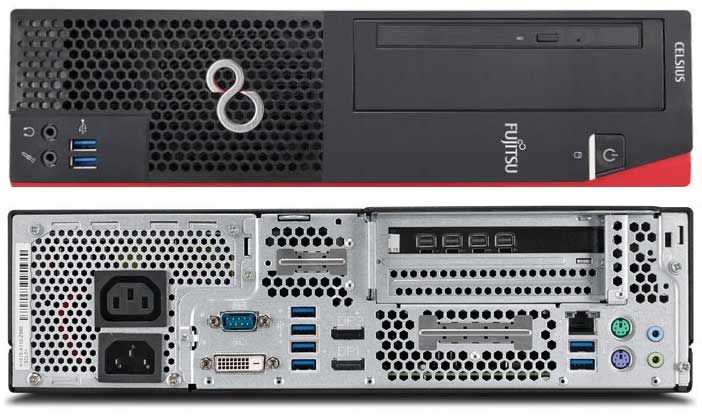 The Perfect Workstation
The perfect workstation should be:
reliable
fast
silent
well-supported
energy-efficient
user-upgradeable
small
…and not cost an arm and a leg.
Fujitsu Celsius J550
The Fujitsu Celsius J550 combines these contrasting requirements perfectly. It is relatively small, but large enough to hold two 2.5″ drives plus one M.2 SSD and the DVD drive it comes with (and which I could do without). It uses Intel processor graphics by default, but has room for a dedicated graphics card. In my opinion the fastest regular desktop CPU, the Intel Core i7-6700 is currently the best option, but Xeons are available, too. Four DIMM slots allow for up to 64 GB of RAM to be installed.
On-Site Support
A very important aspect of any professionally used computer is whether on-site support is available and at what cost. The Celsius J550 comes with three years of warranty which can be upgraded to on-site support with the purchase of a Support Pack for the amazingly low price of €38. To make it easier for anyone interested to located said Support Pack here is Fujitsu's part number: GA3S20Z00DEWSJ.
Noise and Energy
When the Celsius J550 is below your desk you won't hear it. I am quite picky with regards to environmental noise, but that is good enough even for me. I have not measured the energy intake, but Fujitsu prides itself in energy efficiency (they design their own mainboards to be able to maximize efficiency).
Price
The Celsius J550 is rather inexpensive given its qualities. Prices start at around €900. Unfortunately Fujitsu is a lot better at building machines than at selling them. Their online shop lists only select few configurations, but you may be able to find your desired model at an independent web shop.